Aachen-Dresden-Denkendorf International Textile Conference 2023
November 30 - December 1, 2023, Dresden
Partner country: India
Platform and most important meeting ground for exchange between executive management, experts & young professionals from industry and science
Aachen, Dresden und Denkendorf forming the 'textile triangle' of the future– creating textile future together
The regions of Aachen, Dresden and Denkendorf form a triangle for textile research and innovation. The locations jointly organize the Aachen-Dresden-Denkendorf International Textile Conference, which is one of the most important textile conferences in Europe with regularly more than 600 participants from industry and academic research.
ADD-ITC as an on-site event at International Congress Center Dresden
The ADD-ITC 2023 will hold on-site at International Congress Center Dresden. We are extremely looking forward to the personal exchange with you and the special atmosphere of a face-to-face event. We invite you to visit the ADD-ITC as a participant, speaker or with your exhibition booth and to immerse yourself in the fascination of the textile future on site.
Program
Updated: November 23, 2023
The conference program 2023 includes plenary lectures and themed sessions in the areas of
German-India Partnerships
Trends in the Textile Production
Sustainable Polymer Materials and Functionalization
Protective & Functional Textiles
Fiber-reinforced Materials & Composites
Interactive Fiber Rubber Composites
Tactile Internet
Technology Transfer "From Idea to Practice"
Textile Developments by Start-ups
...
The textile industry of the future is emission-free, digital and uses sustainable, recyclable raw materials, its supply chains are secure and transparent, and it responds flexibly to market changes through regional on-demand manufacturing. In the present, these megatrends are being worked out at full speed in research and development. Results of this work will be showcased at ADD-ITC 2023 in plenary and keynote presentations as well as expert lectures and poster contributions.
Plenary lectures
PhD Iain Anderson, Auckland Bioengineering Institute, University of Auckland, Auckland/NZ:
Dielectric elastomer sensors for motion capture, health monitoring and virtual reality
Prof. Dr. Gianaurelio Cuniberti, Institut für Werkstoffwis­senschaft, TU Dresden:
Unlocking new dimensions of perception: Advancing molecular sensor integration in textiles
Prof. Dr. Frank H. P. Fitzek, TU Dresden, Deutsche Telekom Chair of Communication Networks:
Get in touch with the metaverse
Dr. Manuel Häußler, Max Planck Institute of Colloids and Interfaces, Potsdam-Golm:
Recyclable polymers by design - An important part of transforming chemistry to a circular economy
Dr. S. K. Sundararaman, The Southern India Mills' Association & Shiva Texyarn Limited, Coimbatore/IN:
Indian textile industry and technical textiles - Present and future
Presentation of the "Centre for Tactile Internet with Human-in-the-Loop"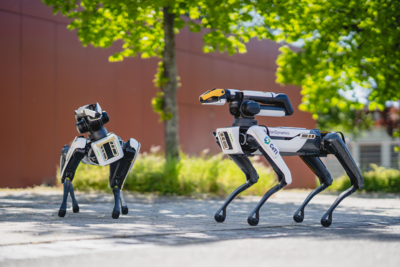 Robot Dog Spot:
Experience the future and see how the Robot Dog Spot from Boston Dynamics is controlled remotely with the help of smart gloves

Negative Latency:
The demonstrator "Negative Latency" is showcasing the potential of machine learning in preemptively deciphering human intent via wearable sensors. By harnessing this predictive capacity, we envision a transformative impact on networking, effectively mitigating latency stemming from message transmission, computation, and propagation. Our demo employs a sensor-equipped glove, enabling anticipatory actions. Remarkably, the system forecasts the object about to be touched – whether it's a cup, plate, or glass – before physical contact occurs.
Keynote lectures
Katja Bernert; Mehler Texnologies GmbH, Hückelhoven:
Textile Building Wraps for Protection and Comfort: Recycled solutions for architectural membranes

Dr. Philipp Buchold; Goodyear Tire & Rubber Company, Colmar-Berg /LU:
Polyethylene terephthalate cord deformation mechanisms upon drawing by time-resolved SAXS/WAXS

Prof. Dr. Xinliang Feng; Chair for Molecular Functional Materials & Center for Advancing Electronics Dresden (cfaed), TU Dresden:
tba

Prof. Dr. Michael Bruno Klein, AiF Arbeitsgemeinschaft industrieller Forschungsvereinigungen "Otto von Guericke" e.V., Köln:
Transfer in the network - the AiF ecosystem

Prof. Dr. Christian Laforsch; Animal Ecology I, University of Bayreuth:
Microplastics in the environment

Prof. Dr. Arunangshu Mukhopadhyay; Department of Textile Technology, National Institute of Technology, Jalandhar/IN:
Strategies for the Selection of Filter Media for Improved Industrial Gas Filtration

Dr. Amol Ogale; Reliance Industries Limited, Mumbai/IN:
Opportunities, challenges and future of lightweight and structural composites in India

Dr. Olaf Enge-Rosenblatt; Fraunhofer-Institut für Integrierte Schaltungen IIS, Institutsteil Entwicklung Adaptiver Systeme EAS, Dresden:
Application of artificial intelligence in industry - capabilities and limits

Dr. Michael Schwake; Deutsche Bundesstiftung Umwelt, Osnabrück:
German Federal Foundation for the Environment - Support for environmentally friendly innovations in small and medium-sized companies

Steliyan Vasilev; 3E Smart Solutions, Krefeld:
Mass production of smart textiles by using embroidery technology

Sreekumar Thaliyil Veedu*, José Canga Rodríguez**; *The Bombay Textile Research Association, Mumbai (India); *DIENES Apparatebau GmbH:
Implementing a Research 4.0 wet spinning facility at BTRA for the development of innovative and sustainable high-performance textiles aiming the Indian market

Jakob Violet; Rolls-Royce Deutschland Ltd & Co KG, Blankenfelde-Mahlow
Structure and manufacturing design for recycling using the example of an composite engine drive shaft for next-generation jet engines

Prof. Dr. Brigitte Voit; Leibniz Institute of Polymer Research Dresden:
Polymers with new functions designed for partially biobased carbon fiber precursors
Expert speakers from the following renowned companies are anticipated to join:
3E Smart Solutions - Assyst - Colours & Sons - CTT - DIENES - DORNIER - dresden elektronik ingenieurtechnik - elfolion - Fujian Huafeng New Material - Goodyear - Groz-Beckert - Hamelner Teppichwerke - HEMP-ACT - hessnatur stiftung - Holzbau Meyer - Interactive Wear - KARL MAYER Technische Textilien - KARL MAYER STOLL - Lefatex Chemie - Maasberg - Mehler Texnologies - Morton Extrusionstechnik - NIG Nahrungsingenieurtechnik - PPT - Reliance Industries - Rieter - Rolls-Royce - Säntis Textiles - STAX - Temafa - Tenowo - Topp Textil - Thorey Gera Textilveredelung - Trevira - Trützschler Nonwovens
Ökodesign World Café
As part of the project "The new Ecodesign Regulation: Requirements for the ecodesign of textiles and the possible transfer to an ecodesign label", we would like to welcome you to our World Café during the breaks of the conference.
On behalf of the German Federal Environment Agency, the research consortium Öko-Institut e.V., Niederrhein University of Applied Sciences and Hof University of Applied Sciences, led by the Öko-Institut, is working on a research project funded by the BMUV to develop possible requirements for the ecodesign of textiles.
Which criteria should be considered in the product aspect of durability? How can recyclability be assessed despite the still limited recycling processes?
We would like to discuss these and other questions with you in our World Café.